The Governor of Ağrı, Osman Varol, who was appointed by the Ministry of Interior to be responsible for shelter services in the region after the earthquakes, said that they continued their work intensively, which they started right after the earthquake.
Stating that they have created temporary bazaar areas in order for the citizens to continue their social and commercial life, Varol said, "So far, bazaars consisting of 2 thousand 700 shops have been planned. 1350 of them are currently active in Kahramanmaraş. Especially in areas that form the heart of the city socially and economically. We're planning." said.

"We have to keep the commercial life alive in that region that we call the heart and belly of the city"
Emphasizing that they first created the infrastructure and established prefabricated bazaars in some places and in the form of containers in others, Varol said, "We give these to our tradesmen, especially those who have been operating in that region before, even if there is a large number of them. This is something that will prevent the city from losing its memory. We have to keep the commercial life alive in that region, which we call the heart of the city." he said.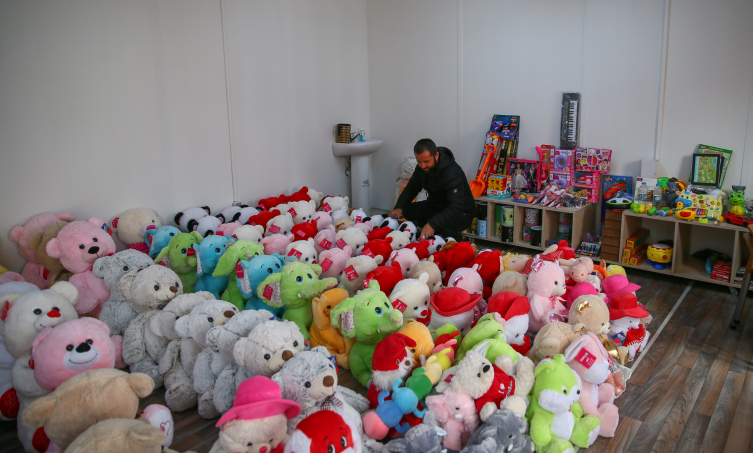 In the "AFAD Kocaeli Bazaar", which was brought to the city by the Kocaeli Governor's Office in order for the small tradesmen whose workplaces were destroyed or severely damaged in the earthquake to be included in the economic life again, the wounds in the workplaces are tried to be healed.
In the prefabricated bazaar in Egemenlik Mahallesi, tradesmen in various fields from the butcher to the grocery store, from the restaurant to the tailor, from the barber to the electronics repairer serve in their workplaces.

"This is our job, our breadbasket, we will work, we will strive"
Fatma Korkmaz, whose baby and children's clothing store in the city center was destroyed, has been continuing her activities in "AFAD Kocaeli Bazaar" for a while.
Explaining that they experienced great pain due to the earthquake, Korkmaz said that he could not save anything from his destroyed shop.
Noting that he did not want to leave the city, Korkmaz said that they stayed in the car for a while in the first days of the earthquake and said:
"At that time it was very bad. Desperation is a really difficult thing. Then we thought, waited, said, 'Patience, God does not lose hope, God is the one who gives sustenance.' In this way, we got our products again. Now we are trying to recover slowly. This is our job, our breadbasket, we will work, we will try. Only patience in this process. Our only wish is for our friends, spouses, relatives, relatives who have gone to return. They have to come because this city will rise again. required."
Fatma Korkmaz thanked those who supported them in this process and added that especially wholesale companies supply them with products without charge.