In his written statement, TESK Chairman Palandöken stated that travel will be limited this year due to the short holiday break and that citizens will mostly shop for the needs of their own homes.
Pointing out that this situation is positive for tradesmen and craftsmen, Palandöken said, "Our tradesmen and craftsmen in all sectors, from the grocery store to the town, from the confectioner to the dessert, from the shoemaker to the confectioner, from the barber to the hairdresser, from the taxi driver to the minibus, have accelerated their preparations for the Ramadan Feast. This year, prices are a little high, the purchasing power of the citizens is lower. However, the economy will gain momentum as everyone will do their holiday shopping without saying more or less." made its assessment.
Expressing that the holiday activity started in the bazaar with a few days before the feast, Palandöken emphasized that the jobs of the tradesmen and craftsmen decreased this year due to the earthquakes in Kahramanmaraş.
Pointing out that bazaars were established in earthquake zones to motivate people, Palandöken said:
"With the start of commercial activities with the support of the state, tradesmen will be able to breathe easily. As on every special day, our tradesmen and craftsmen are looking forward to the revival of the market with shopping to be made on this holiday. The expected turnover of 30 billion liras this year will put a smile on the faces of our tradesmen in hundreds of sectors. "The sales of the indispensable products of the holiday such as festive clothing and shoes, cologne, candy, chocolate, baklava and water pastry, which have become a tradition, started days ago. Our tradesmen and craftsmen in all sectors are ready for Eid al-Fitr. Eid shopping will be the lifeblood of our shopkeepers."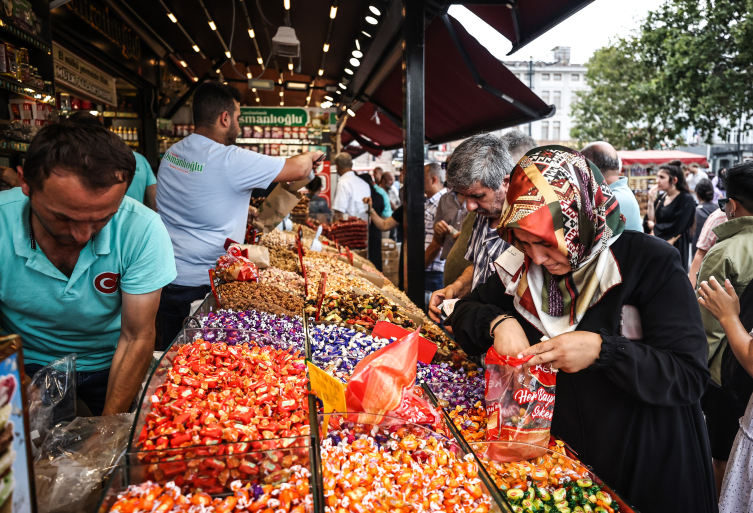 [Fotoğraf AA]

Warning against under-stair production
Palandöken stated that under the counter production increased in this area with the increase in food prices and warned the citizens to be careful while shopping for the holiday.
Emphasizing that under the stairs products, which are not known under which conditions they are produced and do not meet the hygiene conditions, endanger human health, Palandöken used the following statements:
"No one can sell baklava below its cost when the price of sugar, oil, peanuts, walnuts and flour is known. One should stay away from baklava and pastries, which are sold at prices below their cost as they are homemade. Particular attention should be paid to products that can be eaten without washing, such as sweets, candy and chocolate, which are sold behind cars on the roadside. "Fason clothes and imitation cosmetics should not be respected. The address of holiday shopping should always be the local shopkeepers, because our shopkeepers do not feed their customers a product that they do not eat themselves."