The key to a sustainable food chain is the strong and healthy execution of agriculture and animal husbandry. For this reason, the support given to farmers has an important place in national policies. The Ministry of Agriculture and Forestry provided support to the farmers through its organizations. The amount of support given to tens of items from the modernization of agricultural irrigation to the use of electricity, from fertilizers to breeding has reached billions.

Support for Irrigation Electricity
In order to support the electricity used in agricultural irrigation through the General Directorate of Agriculture and Forestry, 2 million 736 thousand 319 lira support payments were made to farmers in the provinces of Şanlıurfa, Diyarbakır, Mardin, Batman, Şırnak and Siirt in 2022. 149 thousand 757 invoices belonging to farmers were paid. Within the scope of the rural development support program between 2006 and 2023, 4.6 billion lira grant support was given to 16 thousand 362 projects and ongoing projects. In addition, a total of 6 billion TL grant was made, 1.45 billion TL for 285 thousand 410 machinery and equipment support.
Within the scope of the 'Expert Hands in Rural Development Project', 110 million lira grant was paid to 1,121 project owners in the 2020-2022 period. In order to support licensed warehousing, 320 million TL rental support was given to 131 licensed warehouses between 2014-2021. The total licensed warehousing support exceeded 495.5 million liras.

Incentive to Young Farmers
Between 2016 and 2018, within the scope of the 'Young Farmer Support Project', 1,433 million lira grant support was provided to 47,775 young farmers. With the EU harmonization process funds (IPARD), 855 million 864 thousand Euro and 168 million 163 thousand Euro grant payments were made in two separate periods. A total of 32 million 613 thousand Euro grant payments were made as beekeeping supports. Positive discrimination was made for women and youth in IPARD projects.

Resource for Modernization in Irrigation
Turkey is in the category of 'countries suffering from water stress'. For this reason, irrigation modernization in agriculture was also greatly encouraged in order to prevent water loss of up to 50 percent in agriculture. Since 2007, 50 percent modern irrigation project support has been given to projects whose value does not exceed 1 million TL. For projects such as drip irrigation, sprinkler irrigation and micro irrigation, 47 thousand 589 projects and 4 billion 668 million 201 thousand lira grant support have been given since 2007.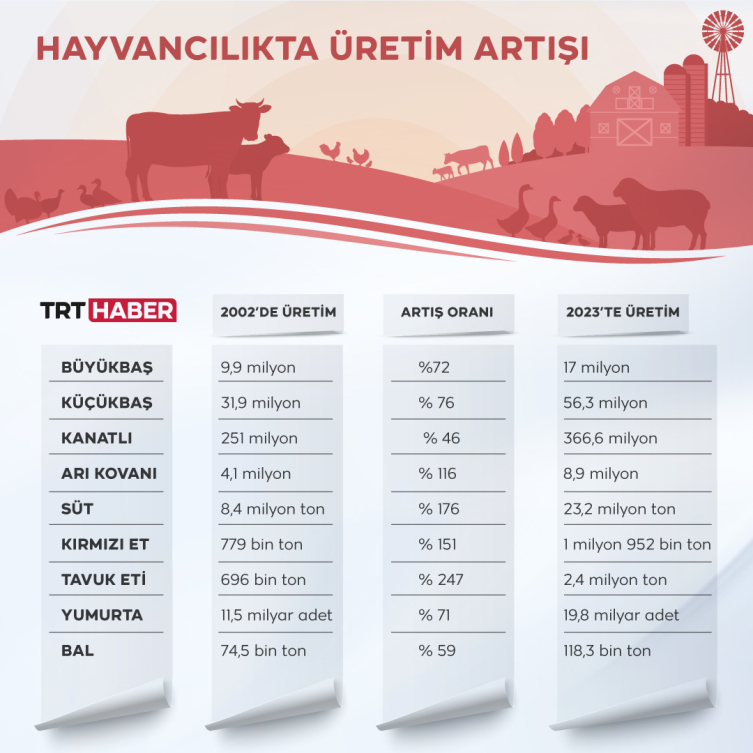 5 Main Categories
The total of the support payments made in 5 main categories, namely crop production, animal production, rural development, aquaculture and agriculture research and development, reached 22 billion liras between 2022 and 2022. The total support, which was 1.8 billion liras in 2002, reached 57.6 billion liras in 2023. The support given to the farmers since the beginning of the year has exceeded 27 billion liras.

Agricultural Insurance Support
Agricultural Insurance Pool (TARSİM) was established in 2005. With this state-supported insurance application, the support given in 2005 was 2.2 million liras, in 2022 it reached 4.8 billion liras. If the producer who takes out the insurance is female and young (under 40 years old), a premium discount of 5 percent is also applied.

Herbal Production Supports
The supports given to 5 different products by the General Directorate of Plant Production of the Ministry of Agriculture and Forestry were increased to 18 products in 2002, and as of 2009, the 'Basin Based Support Model' was adopted. In this context, support payments, which were 1.8 billion liras in 2022, increased approximately 11 times and reached 19.4 billion liras in 2023. The total support in the last 19 years was 159 billion liras. Within these supports, women and young farmers were also discriminated against. In 81 provinces, 75 percent grant support was given to women and young farmers for seed, seedling and sapling inputs, as well as for vaccination activities and post-harvest product processing facilities. An additional 5 points were given to those who grew medicinal, aromatic plants and ornamental plants. In addition, 'Small Family Business' support was provided to those producing under 5 decares.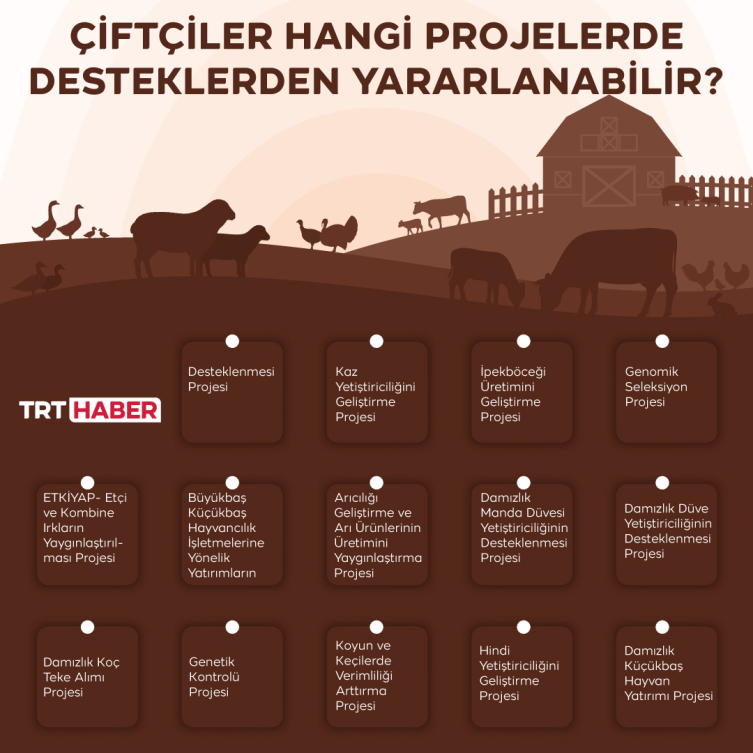 Support to Livestock
According to TUIK data, between 2002 and 2022, the number of cattle increased by 72 percent to 17 million, the number of ovine animals increased by 76 percent to 56.3 million, the number of poultry increased by 46 percent to 366.6 million, the number of beehives increased by 116 percent to 8.9 million. rose to millions. While milk production increased by 176 percent to 23.2 million tons, red meat production increased by 151 percent to 23.2 million kilograms. Meat production per capita rose from 11.3 kilos to 23 kilos per year. Support payments made in 4 items in 2022 reached 33 items in 2022. In 2022, 9.7 billion TL support budget was provided to livestock by the General Directorate of Livestock. An additional 10 points were given to women and young farmers in livestock support.

Fisheries Support
While 1 million 72 thousand liras of support was given to the breeders by the General Directorate of Fisheries Support in 2003, this support reached 119 million 344 thousand liras in 2022. The total support given in the last 20 years has exceeded 1 billion 641 million liras. Support was provided not only in production but also in the fight against invasive species. With the support of blowfish fishing, which was started in 2020, the living structure of the Mediterranean was tried to be preserved. 104 thousand 270 puffer fish were caught, 46 thousand 192 in 2020, 9 thousand 886 in 2021, 48 thousand 193 in 2022, and 658 thousand 345 lira support payment was made.

SCT-Free Fuel for Fishing Ships
Producers were also supported in terms of fuel for fisheries. Fishing vessels were provided with the opportunity to use fuel with a reduced SCT. Between 2004 and 2022, 2 billion 55 million 804 thousand liras of SCT was not collected for 1 million 586 thousand million tons of fuel. In the 2002-2022 period, a total of 5 billion 624 million 225 thousand liras of 'Subsidized Fisheries Credit' was given.