Speaking after the first screening, which was held simultaneously in 3 halls at the Istanbul Congress Center, Baykar Chairman of the Board and Technology Leader Selçuk Bayraktar thanked the guests for their participation and said that the journey to KIZILELMA is never easy.
Bayraktar said, "We have experienced an intense adventure that is as difficult as life itself, with its ups and downs, bitter and sweet, but beautified with determination, effort, friendship and good morals. he said.
Noting that some of his companions completed their time in the mortal world and left for the hereafter, Bayraktar said that martyred lieutenant colonel Melih Gülova, Mehmet Aygün, Muhammed Şehmus Ersöz, Mert Bayraktar, martyred lieutenant generals Osman Erbaş, Tarık Kesekci, Hüseyin Özay, Erhan Arapoğlu, Hüseyin Doğan and Muammer, who are not among them today. He stated that they commemorated Çetindağ's names with goodness.

Thanks to those who contributed
Expressing that there are many names and institutions that should be thanked for making it possible for them to reach KIZILELMA, Selçuk Bayraktar said, "I would like to express my heartfelt gratitude to President Recep Tayyip Erdoğan, who set the vision of a fully independent national defense industry as a target 20 years ago and led it. " he said.
Bayraktar thanked the Ministry of Interior, the Ministry of National Defense, the Chief of General Staff, the force commands and the General Directorate of Security, and thanked the Presidency of Defense Industries (SSB), SSB President İsmail Demir, ASELSAN, ROKETSAN, TÜBİTAK, TÜBİTAK- He expressed his gratitude to SAGE and İşbank Chairman Adnan Bali.
Bayraktar also thanked many private sector institutions and subcontractors, teammates and their families who made friends with them, and said, "Finally, I would like to express my gratitude to our beloved nation, who did not spare their support, prayers and will by saying that they will be completely independent and free in the homeland of the sky. " used the phrase.

He shared the message that KIZILELMA wrote after its first flight.
Baykar Chairman of the Board and Technology Leader Bayraktar stated that he wanted to share the message that KIZILELMA wrote in the flight control computer after the first flight of Bayraktar KIZILELMA, Turkey's first unmanned fighter aircraft, and continued as follows:
"This message, of course, will not be understood by KIZILELMA, which is a flying robot. It was written to be a historical note to remind us and our future generations with what spirit and for what purpose this struggle was fought at this point in history. Now I am reading that note: Love is on the wing of the bird… After the first flight of Bayraktar KIZILELMA, the first unmanned fighter aircraft of our country, the message was written inside KIZILELMA's flight control computer to make a note of history and future generations. A target that gets further and further away as we get closer, and spurs us and our efforts as we get farther.Thanks to our Lord, we arrived at the first stop of this destination three years after Bayraktar Akıncı's first flight.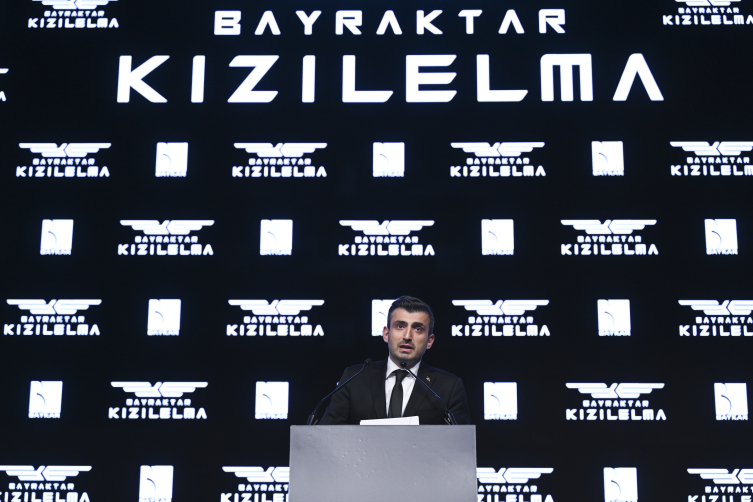 We waged this struggle to break the technological siege around our country and our army, as our late father Özdemir Bayraktar devoted his life and soul, and to be free and independent in our skies. Our mother, Canan Bayraktar, gave us advice, 'Milk is my right.' As he said, we carried out this struggle with our every breath and every step, without deviating from the straight path that we know right, without compromising morality and honesty, despite all the obstacles. With the first flight of KIZILELMA, we have opened the doors of a new world that will encompass the air combat of the future, just as our ancestors melted the iron mountains in the Ergenekon Epic and walked through the mountain to a new world."

"The souls of those who dedicate their lives to a blessed cause continue to live"
Selçuk Bayraktar stated that although they opened the door of the range, the range was as far as the day they started the first fight and made the following statements regarding the statements in the continuation of the message:
"There are roads to be overcome with perseverance, effort and faith, and many steel armored obstacles to be melted down. Bayraktar KIZILELMA, in this new world where we opened the doors and took our first step, is now a game-maker, a rule maker, not a follower, just as our Bayraktar TB2 SİHA has changed the world combat paradigm. Good news. The KIZILELMA of our country in the adventure of national technology is raising the ideal of full independence in technology, which met with millions of young people at TEKNOFEST.The passion for national technology development is spread to all areas and passed on to future generations with the claim and effort of being a leader in every field while competing with contemporary civilizations.
Finally, to Bayraktar KIZILELMA; Be the enemy of the oppressor, be the friend of the oppressed. We have waited for you for a long time, be patient and determined. Steady like your name, be firm in your steps to reach your destination. Be upright and fearless on the right path. We bid you to God, KIZILELMA. The leading name of the ideal of the National Technology Move, which has enabled us to take a step towards this struggle; our father, our leader, our guide, our friend Özdemir Bayraktar… May your place be heaven and your soul rest in peace."
Selçuk Bayraktar concluded his speech by stating that people are born, live and die:
"The souls of those who dedicate their lives to a blessed cause with good intentions and good deeds, with determination and zeal, continue to live with those who continue that struggle."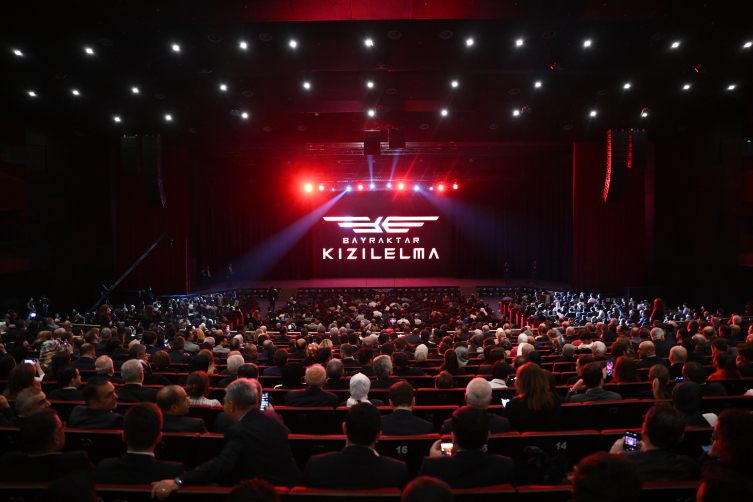 "If they had told us 20 years ago, maybe we could have seen it as a dream"
Baykar General Manager Haluk Bayraktar also thanked the guests for showing kindness and watching the accelerated version of the 20-year adventure with them.
Stating that Baykar remembered Özdemir Bayraktar, who was their leader with his hard work, belief and determination, like an icebreaker at the beginning of his 20-year adventure, Bayraktar said, "He always used to say: 'This is a spark, this will grow, there will be a flame'. We took the task out of the situation." said.
Bayraktar talked about their struggles so far and continued his words as follows:
"If they said 20 years ago, 'An entrepreneur team will come out, start with a 5 kilogram plane from zero, come with an 8-ton plane, and there will be 3,500 people who will start with 5 people. It is such a system that Turkey could not supply a technology even with its money 10 years ago, better than them. It will develop the same technology in a good way, it will support the brother country Azerbaijan, which it could not support in the First Karabakh War 30 years ago. It will play a role in the victory of Karabakh. It will be an example of success from Turkey's Euphrates Shield Operation to Operation Olive Branch. 500 "It will play a major role in preventing the disintegration of its one-year-old historical overseas neighbor, Libya. Again, our friend and brother, our strategic ally, will provide such important support to the Russian-occupied Ukraine since the beginning of the war." As human beings, we could also see it as a dream."

"A story emerges from TEKNOFEST and carries Turkey to the future"
Haluk Bayraktar stated that for this reason, they held TEKNOFESTs in the past weeks, which 2.5 million people favored, and said, "Because each team there is the core team we started 20 years ago for us. Therefore, each of them is very valuable. There is a story and this is the case. It carries the country to a strong future. All of these are the achievements of this country, this nation. Today, we have been successful in these Bayraktar SİHAs, thanks to our nation's support whenever we are hindered, their intervention in some way and their support to ensure that these works are not interrupted." said.

"There's more than you're watching"
Altuğ Gültan, one of the directors of the documentary, stated that witnessing the lives of those who wrote their names in history is one of the most beautiful aspects of making a documentary and thanked the Bayraktar family for giving them this opportunity, trusting themselves and setting them free.
Gültan said, "The part you watched was only the first episode. There is this much more, and even more. I hope you like it." he said.

Intense interest in documentary
The story of Bayraktar KIZILELMA, which was developed by Baykar completely with its own resources, nationally and originally, and Baykar's journey of developing a high-tech national and original unmanned aerial vehicle for nearly 20 years were featured in the documentary.
The guests showed great interest in the documentary, which brought the story of Baykar's unmanned aerial vehicles, Turkey's high-tech product, which was followed with interest by the whole world, to the audience.
The first screening of the documentary, directed by Altuğ Gültan and Burak Aksoy, was held in 3 halls due to intense interest. The documentary, which moved the audience, received frequent applause from the participants.
The first episode of the documentary was broadcast simultaneously on Baykar's YouTube channel. It has been reported that the second part of the documentary will be screened on Baykar's YouTube channel shortly after the completion of the ongoing post-production works.
While watching the documentary with Baykar employees and their families, Selçuk Bayraktar was accompanied by his wife Sümeyye Erdoğan Bayraktar.
Leading names of business, art, politics, media and sports attended the screening.