Turkish Airlines (THY), which has become the most well-known brand of Turkey in the world today, was founded 90 years ago on May 20, 1933 as the 'Airlines State Operations Administration'. The institution, which remained affiliated to the Ministry of National Defense until 1935, was later attached to the Ministry of Public Works.

5 Planes and 23 Seats
When THY first took off, it had a capacity of 5 aircraft and 23 seats. THY, whose first plane was the American Curtiss King Bird D-2 model and bearing the name 'Butterfly', could only transport 5 passengers on a plane to their destination. The first voyage was made between Istanbul and Ankara on February 3, 1933 and was carried out as a connecting transfer to Eskişehir.
THY, whose name was changed to the General Directorate of State Airlines in 1935, made its first international flight from Ankara to Athens on February 12, 1947, with a connecting flight from Istanbul.

Became THY in 1955
In addition to the Ministry of Finance, there were various press institutions and publishing houses among the partners of the company, which was transformed into Turkish Airlines Joint Venture on May 21, 1955 and started to be known as 'THY'. Brussels, Munich, Tel Aviv in 1964, Amsterdam, Belgrade, Tabriz in 1965, Zurich, Budapest, Geneva in 1967, Cologne in 1969, Duesseldorf, Stuttgart in 1971, Hannover, Hamburg in 1972, Copenhagen in 1973, Flights to Berlin Nuremberg have started.

Intercontinental Flight
Carrying its 2.5 millionth passenger in 1983, as it celebrated its 50th anniversary, THY became a State Economic Enterprise (SOE) in 1984. In 1985, it started flying to the Far East and the Atlantic Ocean. In 2001, reservations were made through the call center.
In 2013, it became the 'Airline with the Most Destinations in the World' by flying to 241 destinations, 199 international and 42 domestic.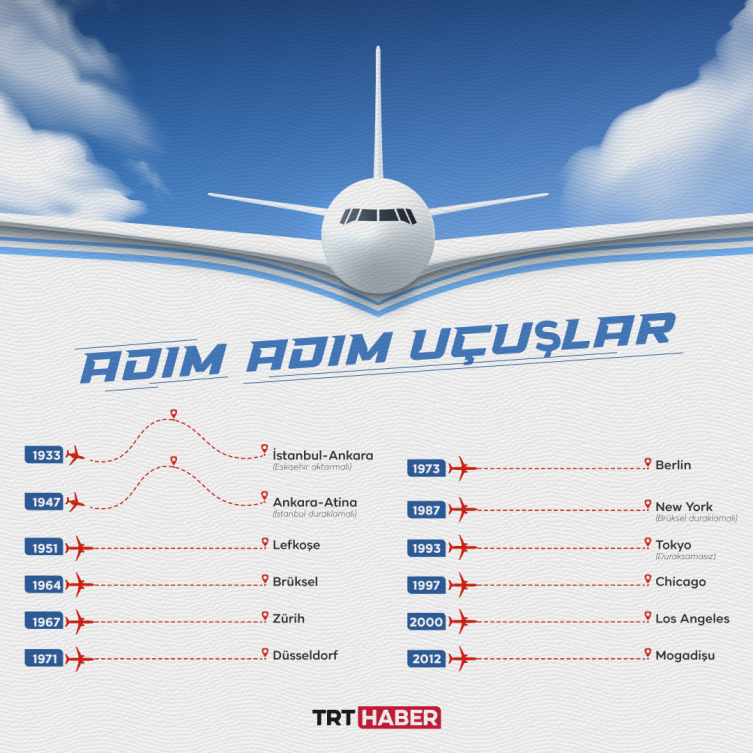 Enthusiastic with Istanbul Airport
The coup attempt in 2016 affected aviation as well as all sectors. However, THY quickly recovered and started to take off again with the positive effect of Istanbul Airport. It has become a favorite of domestic and foreign passengers with the ancillary services it provides alongside its flight points. It has made a sound in the world in terms of public relations by sponsoring Hollywood movies and world-famous sports clubs. He received many awards in Europe and the world.

Flying to 344 Destinations
Today, THY flies to 344 destinations in 129 countries, with 415 passenger and cargo planes, 289 international and 53 domestic. Being a member of StarAlliance, which was founded in 1997, THY has aircraft that can carry 400 passengers at once. Having the 9th largest fleet in the world as of 2022, THY includes institutions such as Turkish Cargo, THY Teknik A.Ş., and THY Aviation Academy. It also has subsidiaries at various rates such as Anadolu Jet, SunExpress, Air Albania, B&H Airlines.