Bees play a very important role in the natural balance, especially for plants to develop and bear fruit. This role is so important that even assertive words are said that "without bees, life ends in four years on earth". This expression, which is attributed to the famous physicist Albert Einstein, but does not belong to him, shows the importance of bees in the chain of life. May 20 is celebrated as World Bee Day to express this importance.
It is important because bees provide pollination and keep some damages under control. In addition, the honey they produce is an important food and its importance has been increasing in recent years. For this reason, beekeeping in Turkey has been included in the scope of 'Livestock Support' since 2003. In 20 years, 1 billion 12 million lira support was provided to farmers for beekeeping support. There was a great increase in the number of beehives, honey production and beekeeping enterprises.

225 Million TL in 2022
Queen bee and filtered honey support was paid to beekeeping producers by the Ministry of Agriculture and Forestry in the 2003-2008 period. As of 2008, breeding queen support per bee hive has also been implemented. With the Beekeeping Registration System (AKS), beekeepers who are members of the union or not were given support per hive. 30 TL support was provided to the members of the union and 20 TL to those who were not. A support of 100 liras per breeding queen bee is provided. Only in 2022, 225 million lira support was paid to 74 thousand producers.

Grant and Credit
Within the scope of the 'Expanding the Production of Bee Products' Project implemented in 81 provinces, 50 percent grant support is applied for beekeeping. Within the scope of this project, 14 million 500 thousand lira grant support was provided to 869 people. In addition, equipment and material investments are also supported. Low-interest loans were offered to beekeepers who produce with 50 or more bee hives and want to increase it to more than 50. Investment loans are provided for related equipment such as hive, pollen trap, electric fence system, honey extractor, pollen cleaning and cake preparation machines, solar energy systems, caravan. Those who want to benefit from support and credits should apply to banks or Agricultural Credit Cooperatives, Social Assistance and Solidarity Foundations and Development Agencies in the district governorships, with the Beekeeping Registration System Certificate to be obtained from the provincial and district agriculture directorates or related unions. Within the scope of EU agricultural development funds (IPARD), it is also possible to apply for loans between 5 thousand and 500 thousand euros in 42 provinces.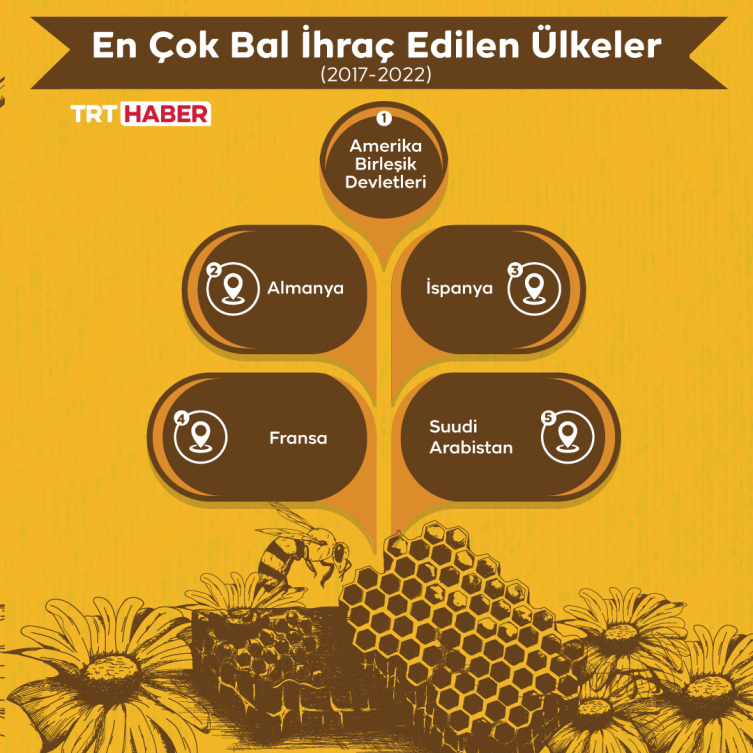 Production Amount and Target
In 2022, 8.9 million beehives and 118 thousand tons of honey and 4 million 165 tons of wax were produced in Turkey. 17 thousand 168 tons of honey produced in 2022 was exported, resulting in a revenue of 46 million dollars. The target in beekeeping is to increase the yield by keeping the number of hives approaching 9 million constant.

Turkey's Honey Varieties
The fact that the geography of Turkey has both mountainous and flat regions and the plant flora is very wide, it also attracts the attention of the world that it has different and registered honey varieties. Flower (highland honey), chestnut, thyme, geven, citrus, cotton and sunflower honeys are among the prominent honey varieties. 90 percent of the world's pine honey production takes place in Turkey and especially around Muğla (more than 70 percent).