Minister Uraloğlu, in his speech at the Gebze OSB-Darıca Coast Metro Line Rail Welding Ceremony, stated that they had a storm of service and artifacts in Kocaeli, one of Turkey's most important production and trade centers, and said that they continued the services they started very quickly.
Expressing that Kocaeli is a city that makes good use of the opportunity it has with its location on the transition corridor between Europe and the Middle East and its proximity to Istanbul, Uraloğlu noted that the city will continue to develop and maintain its importance with the advantages it provides in land, sea and railway transportation.
Uraloğlu stated that the diversity of transportation opportunities makes Kocaeli attractive and said, "This is why foreign capital and large-scale enterprises prefer Kocaeli the most. We also continue the transportation projects developed for Kocaeli. We have invested more than 146 billion liras for Kocaeli's transportation and communication. We have integrated Kocaeli with the world in terms of transportation and turned it into a fully international trade center with divided roads, with high standard of 1574 kilometers in a year. We have completed the Istanbul, Izmir and Northern Marmara highways and surrounded the city with a highway network." he said.

"The overall progress rate of the project reached 71 percent"
Stating that they introduced Kocaeli to the high-speed train line, Uraloğlu said that by opening the first stage of the Köseköy Logistics Center on an area of ​​340 thousand square meters from the Köseköy Station area, they gave great impetus to import and export transportation.
Uraloğlu pointed out that the Gebze OSB-Darıca Beach Metro Line project is one of the most important works they have implemented in Kocaeli so far, and said that the project, which was built as a double line with a length of 15.4 kilometers, will serve at 11 stations.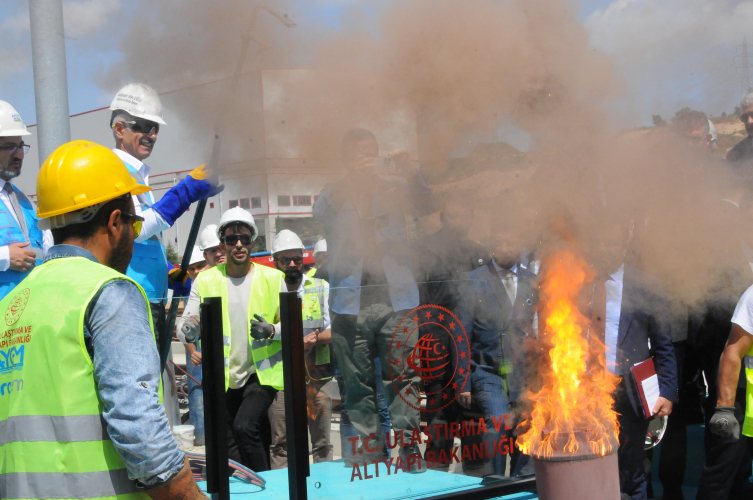 [Fotoğraf: DHA]
Uraloğlu stated that the total length of the built line is 30.8 kilometers, and continued as follows:
"We will have created a service capacity of 330 thousand passengers per day with vehicles with a design speed of 90 kilometers per day. The project will connect the densely populated areas between Gebze Orhangazi Industrial Zone and Darıca coast with the comfort of the metro. The integration opportunity of the station station and the Marmaray line will also be provided. In addition, one kilometer north of the OSB station, on an area of ​​​​about 93 thousand square meters, we are building a warehouse and maintenance area with a capacity of 68 metro vehicles, with a landfill and maintenance area, with economic benefits such as annual operation gains and external maintenance, with the completion of the line, such as air pollution and annual maintenance. "The earnings will be around 3 billion euros. When we consider this income, it becomes clear what an important project we have successfully completed for Kocaeli and our country."
Uraloğlu stated that the overall progress rate of the project has reached the level of 71 percent, and noted that they will carry out the project in general in two stages.
Stating that they will implement the project within the next year, Uraloğlu said, "When our project is completed, the distance between Gebze and Darıca will decrease from 60 minutes to 24 minutes. Our 28 vehicles to be used here will be fully driverless with the condition of 60 percent locality. Hopefully, we will witness the completion of the production of the first subway vehicle in the near future. We have made great progress in the transportation systems of our country, especially in the railroads sector, in Istanbul since 2003, with huge progress in the transportation system, especially in the railroad sector in our country." he said.

"We have implemented very important urban rail system projects"
Minister Uraloğlu mentioned that one of the easiest and fastest ways of transportation in big cities is the metro and tram systems, and stated that as the Ministry, they have implemented very important urban rail system projects so that the lives of citizens living in big cities do not turn into a nightmare due to traffic.
Uraloğlu stated that 395 kilometers of approximately 922 kilometers of urban rail system lines under operation in 12 provinces were constructed by the Ministry, adding, "This is close to half, almost more than one-third. Currently, in Kocaeli and 5 provinces, including Istanbul, Bursa, Kayseri and Konya, in 9 projects under construction by our Ministry, a total of 102 kilometers of rail system line construction continues. "We will continue to make new investments and incentives to expand our systems. We will not stop and work until we establish a fast, safe and comfortable transportation network that meets the needs of our nation." used the phrase.
Expressing his gratitude to President Erdoğan for his vision and support to the Ministry and all kinds of transportation systems during the AK Party governments, Uraloğlu thanked Kocaeli Metropolitan Municipality, Gebze Municipality and local administrations for the implementation of the project.