Speaking at the ceremony held in front of the main gate of the factory, KARDEMİR General Manager Necdet Utkanlar said that KARDEMİR has added brand new products to its product portfolio.
Utkanlar stated that unfortunately train wheels have not been produced in Turkey until now and this is a late process and said, "We are starting to speed up this process that has been too late. We are sending these train wheels, which we have produced for the first time, entirely with domestic labor, to Sivas to meet with our wagons. Our next goal is to reveal our wheelsets and more advanced products at an increasing rate."
Utkanlar stated that KARDEMİR started its needs and founding philosophy by consuming domestic raw materials, and that it has been working with this philosophy for 87 years. Its customer is KARDEMİR. Look, the raw material need of this place has been supplied by railways for 87 years. It will be supplied gradually from now on, but we are getting tighter.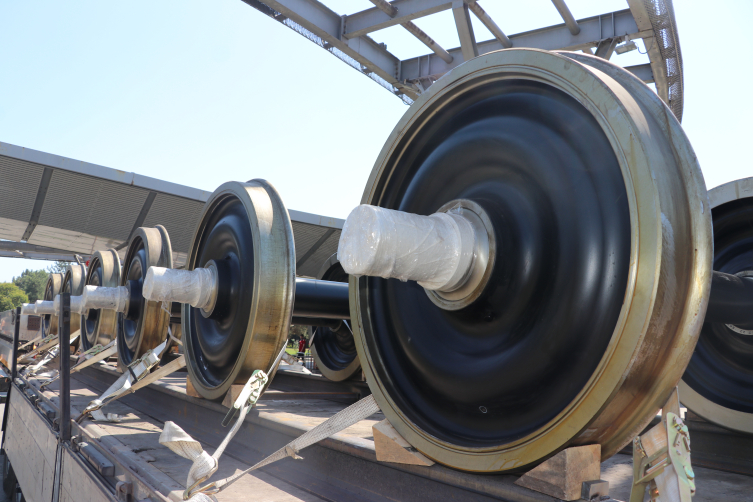 Pointing out that the number of freight wagons in Turkey is 20 thousand, Utkanlar continued as follows:

"The number of wagons in Germany is 280 thousand. When we look at Europe, it is 3 million 200 thousand. Likewise, America is in the same situation. Where are these 100 thousands, where is 20 thousand? That is how big Turkey's need for rail transport is, It is an indication of how important it is to be able to bring our materials here without delay and that we need them. Besides, why shouldn't we get stronger by sending our own products to the interior of Anatolia by rail? Beyond that, we know that our railway networks are very, very barren. We have just started attacks. Attacks on laying railway networks… With the increase in these, the need for these wheel sets will also increase. Until today, Turkey was doomed to import in order to buy these railway wheels and make the wagon."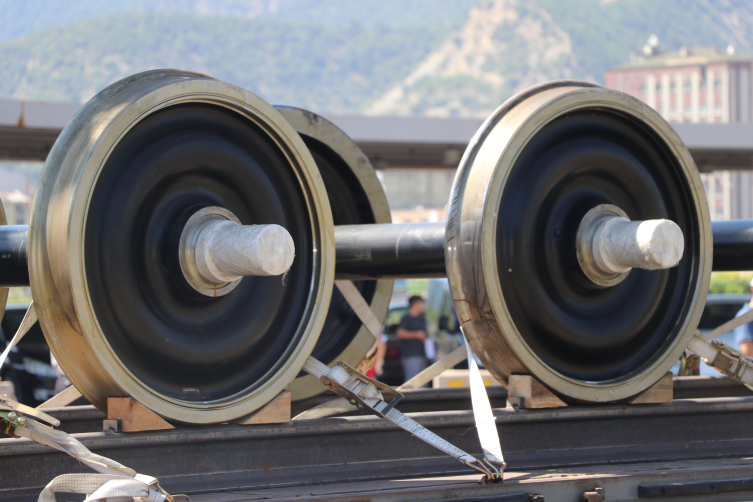 "When it comes to wheels and wheelset, the address is KARDEMIR"
Utkanlar emphasized that for the first time these products set out from KARDEMİR and Karabük, "Look, the address on the rail is KARDEMİR. If it is the wheel and wheel set in question, the address is KARDEMİR. Today, in Turkey, in strengthening the railway networks of Anatolia, in the construction of new equipment. From now on, KARDEMİR has a great responsibility in the transportation of goods from one place to another and even in the construction of passenger wagons for travel," he said.
Expressing that he is very happy, Utkanlar thanked his colleagues for their efforts.

"This happens with a lot of effort." Utkanlar said, "Another good work has been done here. KARDEMİR-KARDÖKMAK created a synergy together. We started to move on with this synergy. Now our new press has arrived. We have recently commissioned our press. Now we have our own axles forged and processed, directly, directly from the ore, from the train wheel. "We have started a movement for the set. We will gradually increase our speed and intensity. May it be beneficial to our country and to all of us. Well done to all of my colleagues. I wish good luck to all of you to meet in better days and to include newer products in our product range."
After the speech, 8 railway wheelsets with TSI certificate, loaded on the truck, were set on the road to Sivas.