Özkan, who started to produce and sell plastic drums with his father about 47 years ago, turned to the furniture industry in 1988 in line with the demands.
In the 1980s, Özkan started to manufacture furniture legs, the raw material of which was hornbeam, from plastic in order to both reduce labor costs and contribute to the national economy.
For this purpose, Özkan collects approximately 50 tons of plastic waste every month from the factories in the OSB, and processes them in his factory, where he employs 130 people, to produce products such as legs, wheels and handles needed by sofas, bases and modular furniture groups.
Exporting these products to Russia, Italy, Netherlands, Ukraine, Germany, Romania, Azerbaijan, Iraq and some Balkan countries, Özkan provided 700 thousand dollars of input to the country's economy last year.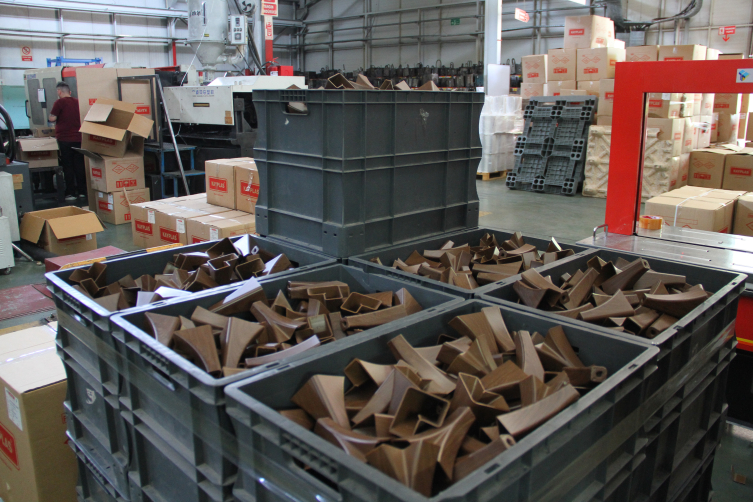 Özkan aims to export 1 million dollars by the end of this year.
Özkan, who also serves as the Chairman of the Board of the Kayseri Plastics Industrialists' Association (KAYPİDER), said that they provide services for the furniture industry with the recycling license they have obtained.
Asking the citizens to sort plastic, metal, paper and glass wastes on-site and send them for recycling, Özkan said:

"The perception of plastic is very important. They say it is carcinogenic, plastic that pollutes the environment, but we as the industry do not agree with these views because nature and nature are polluted not by plastics, but by people. We bring nylon packaging and materials that are not hazardous waste into the industry and the economy. We use these materials as raw materials. We make and use it. We make colorful, patterned and decorative products that look beautiful, won't spoil your fun, and are unobtrusive, and offer them to people."
Özkan stated that they bring the plastic waste they collect into the economy and that they attach importance to recycling as a sector.
Noting that they send the products they produce to İzmir, Bursa, Trabzon, Antalya, Adana and Mersin in the domestic market, Özkan said, "We have close to a thousand molds. We serve the sector through these molds. At the same time, we export to 17 countries. Of course, these gain intensity according to the market conditions. "It may vary on a country basis. We work intensively in countries such as Russia, Italy, the Balkans and the Netherlands," he said.