Minister of Transport and Infrastructure Abdulkadir Uraloğlu inspected the Eurasia Tunnel, which connects the European and Asian continents by land.
Minister Uraloğlu, who received a briefing from the authorities, announced that the traffic density in the Eurasia Tunnel is increasing day by day and the guaranteed number of vehicle passages has been exceeded.
Minister Uraloğlu said, "The Eurasia Tunnel has a guarantee of 70 thousand 574 vehicles per day. In the past period, the number of vehicles using the Eurasia Tunnel exceeded 74 thousand per day, according to the average of September. On April 22, 2023, the number of vehicles per day reached 85 thousand 491. Our State "The Eurasia Tunnel, which has a traffic guarantee of 70 thousand 574 vehicles per day, will start revenue sharing within a few years," he said.

"We are monitoring instantly for possible earthquakes"
Minister Uraloğlu said that the Eurasia Tunnel has successfully achieved many firsts and opened a new era in the world tunneling industry. Referring to the features of the Eurasia Tunnel, Uraloğlu said, "Seismic bracelets used in the tunnel were used to increase earthquake resistance in the Eurasia Tunnel, whose deepest point is 106.4 meters below sea level. In this way, the service conditions of the tunnel against earthquakes that can occur once in 500 years and 2 thousand 500 It was built in such a way that its safety conditions would not be compromised against an earthquake that may occur once a year. We also instantly observe its behavior against possible earthquakes. With the installed system, there are 12 accelerometers throughout the tunnel, 21 displacement sensors that monitor in three dimensions and 3 accelerometers installed in the business buildings. "It is being followed," he said.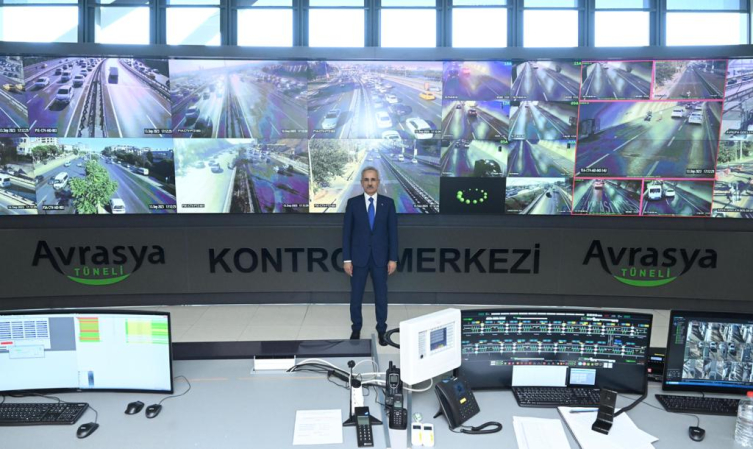 "Intervention time is under two minutes"
Minister Uraloğlu stated that the traffic flow in the Eurasia Tunnel is monitored by operators 24 hours a day, 7 days a week, and said, "The necessary protection plans for all possible emergencies have been prepared considering the 'human first' principle and defined in the SCADA System. Energy, ventilation, lighting, traffic All systems such as signs, radio announcements and access control work automatically as a whole. Extraordinary situations such as accidents and vehicle malfunctions can be detected instantly with more than 400 cameras and automatic event detection systems. In emergencies, expert emergency teams can reach the tunnel structure. "The intervention is carried out with motorcycles that are specially produced and equipped with fire extinguishing equipment, and the response time is under 2 minutes," he said.